Main Space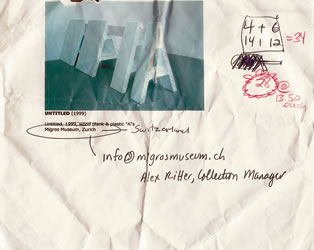 Cady Noland Approximately: Sculptures & Editions, 1984 - 1999 (April 21 - May 21, 2006)
This exhibition is the first survey ever devoted to Cady Noland's oeuvre. It consists of objects made by Triple Candie nd four artists that re based on sculptures and editions by Cady Noland that date from the mid-1980s through the late 1990s. The works were recreated from images found on the internet and in exhibition catalogues. Though an attempt was made to replicate the original artworks as faithfully as possible, they are not reproductions. They are approximations that have been handicapped by practical limitations (e.g. lack of money and technical expertise; insufficient information about scale, materials, or color; and a limited time-frame). By deliberately falling short of its target, the exhibition is meant to incite the public's desire and curiosity to experience the real thing, which remains frustratingly elusive.
More so than any artist of her generation -- and to greater effect -- Cady Noland (b. 1956) has tackled the big, often taboo, subjects of American culture. While her early work was made in response to a specific historical moment -- President Reagan was in office, nationalism was on the rise, the U.S. economy was experiencing unprecedented growth, and the social welfare system was being dismantled -- it has a timelessness that makes it feel surprisingly contemporary. Her best-known installations are made from walls of Budweiser beer cans, alumunim scaffolding, American flags, worker's tools, and automotive parts. Perhaps, her greatest artist achievement has been her ability to regurgitate the lessons of Andy Warhol and Marcel Duchamp and influse their influence with explicit socio-political content.
Noland's art became widely visible in the early 1990s -- following an exhibition at American Fine Arts (1989) in New York and her subsequent participation in the Whitney Biennial (1991), Documenta (1992), and other major exhibitions of that moment. However, shortly after her first solo exhibition at Paula Cooper Gallery in 1994, Noland dropped out of the art world, cutting ties with her commercial galleries. Since then, she has haunted the art world like a ghost. Though invisible to the public, she exercises tight control over the exhibition and publication of her extant work; not only is it rare to see her sculptures in person, it is impossible to see them in books as well, since no monograph has been published on her art. Nonetheless, her spirit is found in the artwork of many other artists who are currently receiving art world recognition, among them Wade Guyton, Nate Lowman, Sarah Lucas, Rita McBride, Josephine Meckseper, Seth Price, Banks Violette, Kelley Walker, and others.
"Cady Noland Approximately" was conceived of conjointly with -- and is meant to serve as a complement to -- the exhibition "David Hammons: The Unauthorized Retrospective," which was presented at Triple Candie in February-March 2006. There are a number of important similarities between the two artists. Both are evasive figures whose art has been highly influential on younger artists. Both artists tightly control access to their work. Both have expressed dissatifaction with the art world and have operated outside of it, on their own terms, albeit in different ways. The Hammons exhibition consisted of photocopies and computer printouts from existing reproductions; this exhibition consists of three-dimensional objects that are made from information gleaned from existing reproductions but which are not exact replicas. In comparing the two exhibitions, one question that arises is: "Which of the two compromised forms of replication is closer to the real thing?" Similarly, "Which is a greater bastardization?"
"Cady Noland Approximately" was made in collaboration with four artists: Taylor Davis, Rudy Shepherd, and two others who asked not to be named. None of the objects in the exhibition are individually authored. Cady Noland was not consulted, or notified, about this exhibition. She lives and works in New York City.